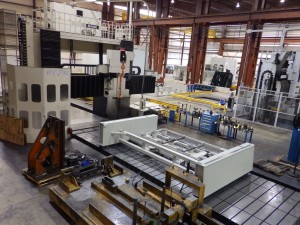 About K&M Machine-Fabricating, Inc.
Improving quality. Ensuring timely delivery. Reducing manufacturing costs.
K&M is a full service, one stop shop, contract manufacturing company producing large machined parts and large fabrications to our customers' specifications. K&M is ISO 9001:2015 certified.
Our large CNC machining equipment and fabrication shop can handle your large part needs. Our burn and assembly capabilities support large fabricating and large machining projects.
Based in Cassopolis Michigan, K&M consists of a 3 building complex located on 92 acres. K&M's 378,000 square-foot manufacturing facilities consists of:
A machine shop with 30 state of the art large CNC milling and boring machines and value added assembly areas.
A separate fabrication facility with robotic welders, submerged arc welding, MIG and TIG semi-automatic welding, blast booth, and paint booth.
A dedicated burn shop with laser, plasma and oxy-fuel steel plate cutting capabilities.
K&M is located in beautiful southwestern Michigan in Cassopolis, which is strategically located within easy driving distance of Kalamazoo, St. Joseph, and South Bend Indiana. The plant is a two hour drive from Chicago and a two and a half hour drive from Detroit.
Here are just a few of the reasons why it makes sense to outsource with K&M:
Provide improved quality and delivery in the face of increasing global competition
Reduce operating costs
Reduce capital investment
Obtain processes that are not available internally
Redirect resources from non-core activities to those that better serve your customer
To share risk; companies that outsource become more flexible, dynamic and adaptable
Our company provides a variety of services to companies seeking outsourced fabrication and CNC machining of large steel components. K&M serves customers across the United States.  We are particularly well located to serve customers in Wisconsin, Illinois, Indiana, Ohio, Pennsylvania and Michigan.  Our services are designed to support our customers during rapid new job startup and series production.
Engineering: Engineering provides fast quote turnaround, design for manufacturability evaluation, fixture design and build, tool design, project management, control plan, and PFMEA. K&M engineering is experienced in the latest tooling, welding and machining processes. This experience is applied to our customers' products to provide a cost effective and high quality manufacturing process.
Machining: Flexible CNC machine shop is production oriented and can handle large machined components including steel castings and steel fabrications. Over 35 large CNC machines with the latest technology are installed to meet your large part machining needs.  Many of the machines are equipped with right angle and universal machining heads.
Fabrication: Fabrication shop offers multiple robotic welding cells complemented by certified welding specialists trained in a variety of techniques. Large, heavy steel, fabrications are our specialty. AWS qualified welders and AWS Certified Welding Inspectors on staff.  We have the fabrication experience to meet your demanding process control standards.
Inspection: Inspection capabilities include a large DEA Delta Slant SF CMM and a Faro Laser Tracker.
Burning: In-house burn shop offers a multiple head plasma and a laser burning table that can handle a broad range of plate sizes and thicknesses.
Assembly: Assembly capabilities offer cost-effective electrical, hydraulic and mechanical assembly services.
Sculpture Fabrication: Nationally recognized Sculpture Fabrication Division provides a useful resource for artists that work with large scale metal designs.
K&M has provided outsourced large fabrications and large machining services since our inception in 1951. Today K&M provides a variety of outsourced large fabrication and large machining services to the following Industries:
Defense: K&M machines large structures for land based and maritime defense.
Power Generation: Machines large fabricated and cast engine blocks and fabricated oil pans. We can machine complete engine blocks or partial to supplement your in house capacity. We can also fabricate engine blocks and other components.
Oil and Gas: Machines components for jack up rigs and fluid ends.
Machine Tools: Supplies fabricated and machined bases, gantries and other components for machine tools. Our large gantry mills and large boring mills along with our CMM and Faro Laser Tracker inspection capabilities insure parallelism and perpendicularity of our customers' machines.
Mining Equipment: Provides fabricated and machined components for large mining trucks and continuous miners in series production volumes.
Construction Equipment: Provides large fabrication and large machining for cranes and other construction equipment.
Our equipment list includes a wide variety of large capacity CNC milling machines including:
Horizontal Boring Mills: PAMA Speedram 2000/3, Pama Speedmat 3/TR25, Mitsubishi MHT13/1250, Mitsubishi MHT13/1618
Vertical Double Column Bridge Mills: Mitsubishi MUR35, Mitsubishi MVR30, SNK RB-7VM, SNK HF-7M, SNK RB-6VM, SNK RB-5VM
Horizontal Machine Centers – CNC: Niigata HN80D, PAMA Speedmat 3/TR16, Toshiba BMC-1000
Additional Information about K&M's Large Machining and Large Fabricating Capabilities
View the Large Machining Gallery and Information Page
View Detailed Information about K&M's CNC Machines
View Detailed Information about K&M's Fabricating Capabilities
View Articles about Large Fabrication Welding
Contact us by phone (269.445.2495) or by email to learn more.
Visit K&M Machine-Fabricating, Inc. YouTube channel
Follow K&M Machine-Fbaricating, Inc. on Twitter
Follow K&M Machine-Fabricating, Inc. on LinkedIn
Follow K&M Machine-Fabricating, Inc. on Facebook